Woolworth's: Palo Alto's Five & Dime
In recent years, Walmart has taken a bevy of verbal attacks from small town merchants and competition watchdogs. The complaint stands that America's biggest retail outlet moves into small towns, undercuts local prices and puts Main Street "Mom & Pops" out of business. But while the economic gigantism of Walmart may damage any sense of free market justice in small town America, such complaints were heard about other stores long before Sam Walton ever started lowering smiley-faced sticker prices. For decades it was the F. W. Woolworth's store on every American Main Street that had local shop owners muttering about out-of-town corporate bullies. Here in Palo Alto, department stores like Bergmann's, I. Magnin's and The Emporium eventually had long runs outside downtown, but for 70 years, it was F. W. Woolworth's that was the place to get just about everything.
Frank Winfield Woolworth began his business career with a couple of big ideas. When he opened the original Woolworth's, it was one of the first department stores to put the merchandise out on the floor. Up until then, customers would hand their shopping lists to a clerk who fetched the items from behind the counter--usually leading to some negotiation over price. Woolworth also tried to rewrite the economic playbook customary to department stores. Slashing prices to almost ridiculous lows, F. W. attempted to simply sell as many goods as possible, trusting that profits would follow.
And indeed they did. After an initial failed start on a $300 loan, F.W. Woolworth's "five and dime" model prospered in the 1880s, originally in Lancaster, Pennsylvania and later across the nation. Soon F. W. was on his way to realizing his stated goal of putting red and gold awnings "in every town of over 10,000 in the country."
The riches that came to Woolworth made him one of the richest men in America --- and one of the most extravagant. Mourning the death of his daughter and the illness of his wife, Woolworth embarked on a seemingly desperate attempt to cure his depression through material satisfaction. He built an entire row of mansions for his daughters on New York's Fifth Avenue, as well as a mansion on Long Island that included a room-sized pipe organ, a $2 million pink marble staircase, and a full-time staff of 70 gardeners. The gaudy spending spree culminated with the $13 million Woolworth Building, which was paid for entirely in cash and was erected in 1911 as the world's tallest building.
After Woolworth's death in 1919, the company continued to prosper under the savvy guidance of the company board---his boys, as F. W. had referred to them. While inflation eventually forced the stores to raise prices above a dime, Woolworth's continued to expand and thrive in the Great Depression and through the mid-20th century. The introduction of the famed Woolworth's lunch counters further attracted customers. The red stools and grilled hot dogs, chicken soup and milkshakes— all helped pioneer the teaming of food and shopping which is now second nature to stores like Ikea, Target and Borders Books. And in the days before malls and drive-ins, the Woolworth's counter was a popular hangout spot in virtually every American small town.
In 1917, Palo Alto got its own Woolworth's. The original location was at 222 University Avenue, and its opening was a big event for a small town. A musical orchestra greeted customers at a special dedication in which hundreds of customers turned out just to "look over" the merchandise before the store officially opened for business the following day. In those early days, Woolworth's sold many items recognizable today--though at much cheaper prices. A look back at old newspaper ads reveals that you could get three pencils for a nickel, a baseball for a dime and a mirror for just fifteen cents. Today's shoppers would be less familiar with other items for sale, such as dust caps, jelly tumblers and tatting shuttles.
In 1949, Woolworth's moved down the street to 352 University Avenue, the 185-foot-long building now occupied by CVS Pharmacy. The new opening was again a big deal, bringing out the mayor, fire chief, chief of police, and president of the chamber of commerce. They helped usher in the brand new building that featured such novelties as air conditioning, fluorescent lighting and a new lunch counter and soda fountain. And with the longest frontage along University Avenue, this new Woolworth's store would anchor the University Avenue shopping district for the next four decades.
And yet customers across the country in the 1950s were heading out of downtown for the convenience of suburban malls. Woolworth's went with them. In Palo Alto, this progression took shoppers away from
University Avenue and out to the newly finished Stanford Shopping Center. While the downtown location remained, a new Woolworth's opened in 1955 as one of eleven original tenants.
Of course, in those days the Stanford Shopping Center was more like a neighborhood mall than the regional luxury center of chic that it would later become. The shopping center's early incarnation--which included a hardware store and a Purity supermarket--welcomed Woolworth's as one of its own.
By the 1980s, however, the Stanford Shopping Center had experienced some serious upward mobility. While Woolworth's was still a profitable store and the ideal place to pick up some AA batteries, low-priced shampoo or a pack of gum, its general merchandise had increasingly become an anathema to the Stanford Shopping Center's new market strategy. In 1986, Rosemary McAndrews, the overseer of Stanford's march to boutiqueville, said that Woolworth's no longer "fit the Stanford image." Indeed, Woolworth's did seem a bit out of place alongside Tiffany, Bloomingdale's and Pottery Barn for Kids.
Actually, by the 1990s Woolworth's was struggling all over the country. Its market niche had been usurped by the bigger all-purpose stores like Walmart and Target which offered more brands, more square footage and a lot more parking. Additionally, as supermarkets and drug stores expanded to sell more than just food and medicine, Woolworth's value declined.
In 1994, Woolworth's closed more than half of its 800 locations across the nation, but Palo Alto's two stores were already gone. The Woolworth's on University Avenue made its final sale in 1989, and the Stanford Shopping Center Woolworth's bowed to pressure in 1991. The glory days were surely over for the once mighty Woolworth's—so completely over that six years later, consolidating its retail assets, the Woolworth Corporation made the decision to change its name to the Venator Group. The name Woolworth's, it seemed, was just so yesterday. []
"My father was a manager for several of these stores and my brother and I worked at several through the early '70s. The one on 5th Avenue in NY was a wonderful store with 2 floors. I think that it was my favorite."
-Judith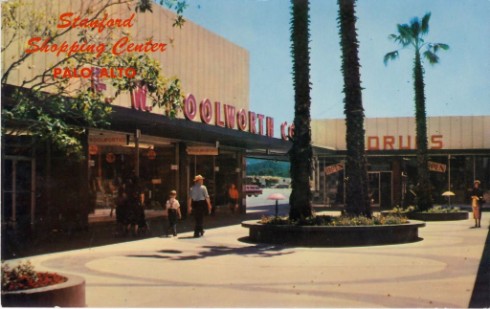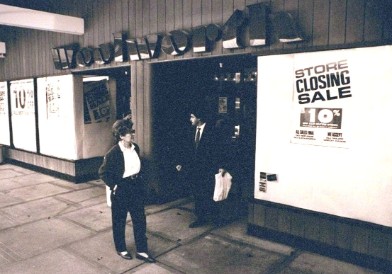 The final days for the Woolworth's at Stanford Shopping Center. (PAHA)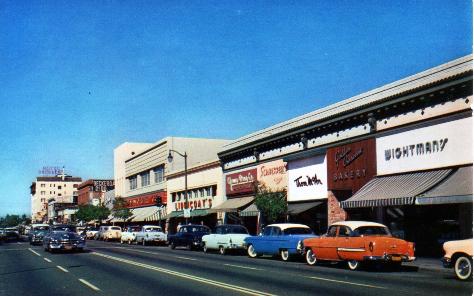 Woolworth's (just left of center with the red awning) in the 1950s. (PAHA)
The Peninsula Dairy Store is still going strong on High Street.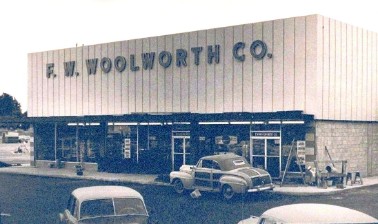 Woolworth's was part of the original line-up at the Stanford Shopping Center.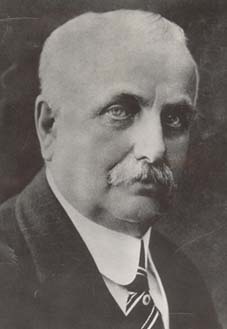 Frank Winfield Woolworth.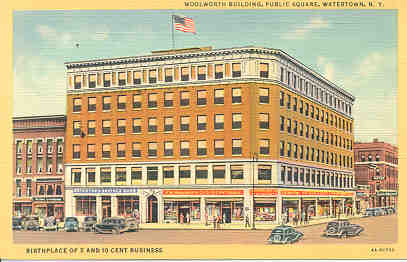 The original Woolworth's store.