The Grateful Dead: Making the Scene in Palo Alto
"Palo Alto was the magic carpet. It was where everything happened. That's where the music was…Jerry [Garcia] was there and [Bob] Hunter was there…all the characters were there. Palo Alto was the beautiful golden basket that this all came out of...Palo Alto was INCREDIBLE in those days." –Carolyn "Mountain Girl" Garcia
In the late 1950s and early 1960s, those year when the American counterculture was slowly moving from Beatnik intellectualism towards psychedelic hippiedom, Palo Alto was a pretty happening place. This is rather surprising, because in those years the city was far more conservative and less urban than it is today--after all, Palo Alto was still basically dry until 1971. But in this quasi-university town not too far from San Francisco, a youth scene sprouted up on the city's liberal fringes that would end up producing some big-time artists, including the Kingston Trio, Joan Baez and the very symbol of American counterculture--the Grateful Dead.
In 1960, 18-year-old Jerry Garcia arrived in Palo Alto. The future Grateful Dead leader had just been discharged from an unlikely Army stint where he had accrued two courts-martial and eight AWOLs. At the time, the daytime center of literary and intellectual activity for Palo Alto youth was actually in Menlo Park at Kepler's Books on El Camino. Still in operation today, Kepler's was a kind of hypercreative living room for what Garcia's then-girlfriend Barbara Meier would later say was a full-time "collection of poets, musicians, painters, writers, socialists and pacifists, with a smattering of out and out lunatics." Garcia took up nearly daily residence as part of the Kerouac-inspired, neo-Beatnik crowd hanging out in Kepler's backroom.
At night, the action tended to shift over to St. Michael's Alley, a funky Palo Alto coffee shop at 436 University which had launched Joan Baez a couple years earlier. There were other places as well--the Top of the Tangent, a small folk club upstairs from a pizza parlor at 117 University Avenue, and The Chateau, a three-story, old Victorian house on Santa Cruz Avenue in Menlo Park that approached the atmosphere of a hippie commune. Later the scene would shift to author Ken Kesey's house on Perry Lane, near Stanford Golf Course, and to a huge turn-of-the-century Victorian at 436 Hamilton Avenue in downtown Palo Alto.
Indeed, reading accounts of the Dead's formative years is like a walk through Palo Alto in the early 1960s. For example, Garcia was in bandmate Bob Weir's apartment on High Street, thumbing through a Funk & Wagnalls Dictionary, when he came up with the Grateful Dead name. Garcia found out from his second Palo Alto girlfriend, Sara Ruppenthal that she was pregnant while window shopping at Stanford Shopping Center. And Garcia's wedding to Sara Ruppenthal, his second Palo Alto girlfriend, took place on April 25, 1963 at the Unitarian Church, followed by a reception at Ricky's Garden Hotel.

Garcia met eventual Grateful Dead bassist Phil Lesh and keyboardist "Pigpen" McKernan at Palo Alto parties, and for a while Garcia and longtime Dead lyricist Robert Hunter lived side by side in their cars in a nearby lot. The early version of the Dead, the Warlocks, even rented their instruments from Swain's House of Music at 451 University. When he encountered Bob Weir, Garcia had a job as a guitar and banjo teacher at Dana Morgan Music on Bryant Street. But while Garcia earlier may have been totally immersed in the Palo Alto scene, he was basically free floating and free loading until his life was jolted by a terrific car crash on the night of February 20, 1961.
At around one in the morning, after a party at The Chateau, Garcia went out for a drive with three friends--Alan Trist, Paul Speegle and Lee Adams, who was behind the wheel of a 1956 Studebaker Golden Hawk. The car was up near 90 mph on Junipero Serra Boulevard when it jumped the guardrail, flipped over several times and landed on top of Speegle, killing him instantly. All the passengers were thrown from the car, including Garcia, who literally came out of his shoes. The three survivors ended up at Stanford Hospital with Garcia sporting a broken collarbone. Later he would say that the crash was "where my life began. Before then I was always living at less than capacity. I was idling. That was the slingshot for the rest of my life."
By early 1964, after a rather unsuccessful attempt at married life and a cross-country trip to find the roots of his beloved bluegrass music, Garcia began his move toward forming the Grateful Dead. On New Year's Eve 1963, Garcia had met 15-year-old Bob Weir, future Grateful Dead guitarist, who later described the fortuitous encounter: "I was wandering the back streets of Palo Alto with a friend when we heard banjo music coming from the back of a music store….It was Garcia waiting for his pupils, unmindful it was New Year's Eve. We sat down and started jamming and had a great old rave. I had my guitar with me and we played a little and decided to start a jug band."
The jug band was Mother McCree's Uptown Jug Champions, Garcia's nod to the particular niche of folk music that took off as a minor craze in the early 1960s. But despite his love of banjos, jugs and bluegras, Garcia found that playing "old-timey" folk in Palo Alto was not so easy. As Garcia would explain in 1981, "in the area there were virtually no bluegrass musicians…I was operating in a vacuum." After 25 or 30 gigs over the course of eight months, Jerry began to move away from the nostalgic style of Mother McCree's and toward cutting edge rock 'n' roll. And there was something that was pulling him hard in that direction--the soaring phenomenon of the Beatles.
In 1964, the American musical world was turned upside down by the British invasion of the Beatles. As Garcia's biographer Blair Jackson put it, "Like half of America under the age of 25, Jerry had been seduced by the Beatles, especially their film A Hard Day's Night which depicted life as a rock 'n roll band as just about as much fun as you could have on Planet Earth." Bob Weir agreed, "The Beatles were why we turned from a jug band into a rock 'n' roll band. What we saw them do was impossibly attractive." Plus by early 1965, Garcia had forever fallen in love with the electric guitar.
As Garcia and Weir turned toward rock 'n' roll, Mother McCree's evolved into the harder-rocking Warlocks. The new lineup featured Garcia, Bob Weir, Dana Morgan, Jr. (from the Bryant Street music store) on bass, Bill Kreutzmann (from Paly's best band, The Legends) on drums and Paly dropout Ron "Pigpen" McKernan on keyboards and harmonica.
Over the next few years, as the Warlocks officially became the Grateful Dead, the band rose to ever greater heights. As LSD and hallucinatory drugs infused the Palo Alto scene, author Ken Kesey and his band of Merry Pranksters began to stage elaborate drug parties dubbed Acid Tests in Palo Alto and other California cities. The Grateful Dead essentially became the house band of the Acid Tests, furthering their reputation and reach. Soon they were off to the Haight-Ashbury and eventual stardom as the Grateful Dead became the most iconic counterculture band of the 1960s. They would end up the greatest and highest grossing live music band in history.
Along the way the Dead acquired an insanely devoted following of fans—nicknamed Deadheads— who worshipped the band for decades and followed them from place to place on their "endless tour." Even today, some 2,314 concerts later and long after Garcia's fatal heart attack in 1995, Deadheads still scour the internet looking for old mementos of the band. It seems sure that some still hope to find a piece of that magic carpet from the Grateful Dead's earliest days, back when "Palo Alto...was where everything happened." []
"When I was 12 years old I took guitar lessons from Jerry Garcia at Dana Morgan Music. I really wanted to learn the banjo but I had to settle for Jerry Garcia teaching guitar. My mother dropped me off every week in my pressed skirt and penny loafers, and every week Jerry would patiently listen to me struggle through scales and hits such as "Yankee Doodle Dandy." He would grunt every once in awhile and roll another cigarette. When my mother picked me up she
complained about me smelling like smoke. After six months I changed instructors to learn flamenco guitar. I don't play guitar any more, but I treasure the memories and always have fun when I tell a Dead Head that I took lessons from the great Jerry Garcia."
-Ellen
"I encountered Jerry at the Comedia Repertory Theatre in the early sixties when it was located at the corner of Emerson & Hamilton. I recall the accidental event as I was an acquaintance of Paul Speegle. I still have one of his paintings. I also have Perry Lane memories.I have been trying to locate a fiction book written by a woman in which the characters were based on Perry Lane/Homer Lane habitants of the era [late 50s/early 60s]. Unfortunately I do not recall the title. The only memory remnant is a 'mailbox' on the paperback cover and I'm not even sure of that."
-Ester

"Good article. I was one of the founders of The Legends, along with Howie Schonberger (our best musician) and Bob Kelley (founder and artistic director of Theaterworks). Bill took over for Nick Hammer. We featured Bill on Bobby Blue Bland's "Turn On Your Love Light/Don't Cry No More," which became a Grateful Dead standard."
-Byron
"In 1964, I was taking guitar lessons from a guy named Troy. Jerry Garcia and Bob Weir also gaving guitar lessons at Guitars Unlimited on El Camino Real in Menlo Park. It was a block south of Santa Cruz Avenue.

On a number of occasions Jerry would have me pick up my guitar and jam with him. At that time he was playing in the Warlocks and they used to play at Magoo's Pizza Parlor in Menlo Park, until the crowds got so big that the police shut it down.

When Jerry and Bob left for Los Angeles, they took a lot of equipment that was owned by Guitars Unlimited. I they made it so that they would repay him for the equipment."

-Alan
"As a 15 year old kid I was invited up to 'The Chateau' by my friend Roger "Cool Breeze" Williams. An a non-initiate I was beyond my realm when I passed a lanky beaded individual on the front porch who, with abandoned eyes like black saucers, was using a long folding pearl handle fruit knife to clean his fingernails. When we went inside Garcia was sitting at the dining room table in an agitated state and frustrated because he was having difficulty finding a certain cord on his guitar. A couple of people jumped on him as he fell back in his chair knocking over a gallon bottle of Red Mountain, pocket knife in hand, and professing he was going to cut off a finger to make his hand more adaptable to the guitar. This ruckus did not interrupt the semi-nude threesome in the sitting room who were swaying and in a state I only came to understand years later. 'Breeze' went on to notoriety in the opening chapter of Tom Wolf's Electric Kool-Aide Acid Test."

-Patrick
"It must have been around 1968. I would have been 18 or 19. It seems like most of the people I hung out with back then were either in bands or at varying stages of learning a rock and roll instrument. I was attempting to play drums. My family hated the drums as did our neighbors. One day I decided I would sell my Ludwig drum set and use the money to buy an acoustic guitar. It seemed like a more reasonable instrument to take to the beach parties. I placed an ad in the San Jose Mercury. The first day the ad was out I got a call from a guy who wanted to know if I would be interested in trading the drums for an electric guitar. I told him I wanted a guitar but not an electric guitar. He said I had to see the guitar he had and that might change my mind. I told him to bring it over and I would check it out. The next day, two guys arrive at my door, one carrying the guitar they came in and after checking out the drums, opened the guitar case. It was the most beautiful guitar I had ever seen. It was a white Gibson SG Custom with all gold hardware and three humbuckers. I didn't know a lot about guitars but I knew this one had to be worth a lot of money. I agreed to the trade and figured I could sell or trade this guitar for the acoustic guitar of my dreams. The next day, with guitar in hand, I went to the store that I thought would have the best selection of acoustic guitars, Guitars Unlimited on El Camino in Menlo Park. It wasn't a very big store. It had a store front display window and row of guitars along each side wall that you walked between to get back to the sale counter at the back of the store. After a brief perusal of the inventory I proceeded back to the sales counter to see what sort of great deal I could negotiate. I asked the guy at the counter if he would be interested in a trade. He asked to see what I was trading in and I put the case on the counter and opened it up. He just about blew a gasket. He asked me where I got the guitar and I told him about the trade. He called his partner form the back room and they both agreed upon what they were looking at. They insinuated that I was lying and that they were going to call the police. It turns out that the guitar belonged to Jerry Garcia and Guitars Unlimited was doing some setup work on it. When they completed the setup they put the guitar in their show window. Earlier in the week someone had run in, snatched the guitar from the window and run off with it. They insisted that I was that someone. I said if I had taken the guitar I certainly wouldn't have brought it back to the same store. They insisted I was the thief and were going to call the cops. I figured, not only was I not going to get my dream guitar, I was going to end up in the slammer. Finally one of them suggest that they ought to call Jerry to see what he wants to do. One of them picks up the phone, dials a number and when someone at the other end answers says "Jerry" and proceeds to tell the person their whole story and my whole story. After several minutes of conversation the guy hangs up. He looks at me and says "it's your lucky day". Turns out Jerry felt sorry for me and he tells these guys that he will pay up to $250.00 towards any guitar in the store, excluding his of course. I found a Guild D-25, price $250.00. They put it in a case, handed it to me and I walked out the door. I never met Jerry but I would have liked to have thanked him. That day marked the beginning of a hobby that has taken me through countless guitars and a twenty year stint in a rock and roll band. I still play almost every day."
-Gary Ridley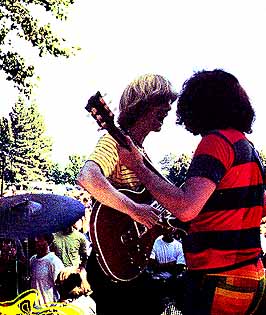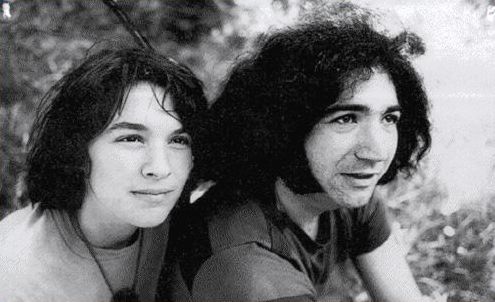 Jerry Garcia and his eventual wife Carolyn, AKA Mountain Girl.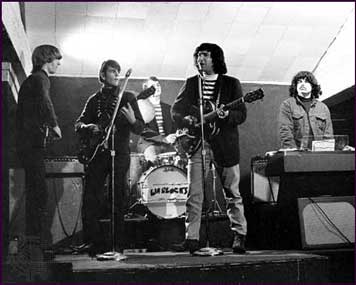 The Warlocks playing in 1965.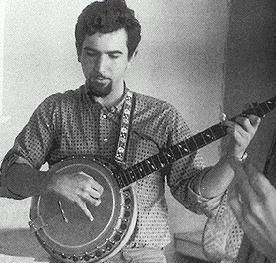 Jerry Garcia with his beloved banjo.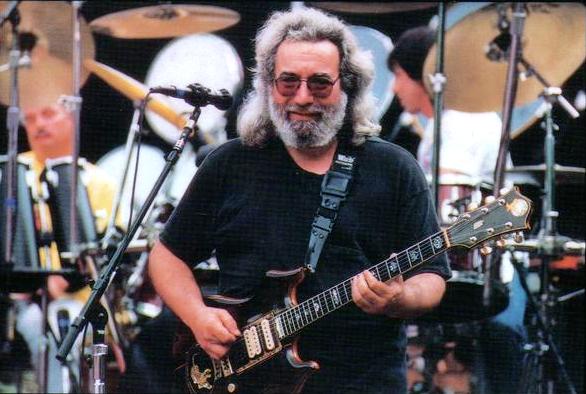 Jerry Garcia and the Dead playing at Stanford in 1989.
©1989 robbi cohn/dead images / Courtesy of Robbi Cohn.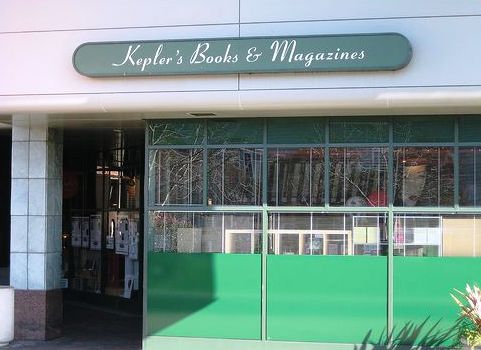 Kepler's Books, still going strong in Menlo Park.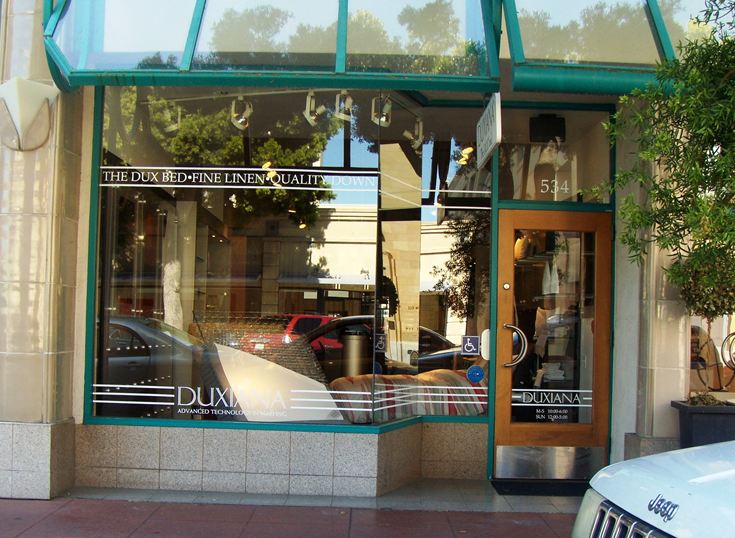 The former location of Dana Morgan's Music Shop where Jerry Garcia taught guitar and banjo.