The Bert Kay Murder: A Community Grieves
People consider many things when choosing the communities in which they will live. The school system, proximity to work, housing values and local culture are all certainly factors in this important decision. But in the crime-conscious environment of 21st Century America, safety is probably the most fundamental factor of all. Any worthwhile real estate agent will emphasize a safe environment, quiet streets and a child-friendly neighborhood when pitching residential property --- and if it's a gated community, well, so much the better. And while Palo Alto has never quite catered to gated exclusivity, its image as a safe place to live has long been part of its attraction. With a heralded school system, bountiful parks and an array of child-friendly cultural institutions, Palo Alto is inclined to advertise itself as an ideal place to raise a family.
But as the evening news is always quick to point out, no American city is immune from violence these days. And every so often there is a local crime that leads citizens to question their collective well-being.
Perhaps the most jarring of all Palo Alto crimes was the 1997 murder of 38-year-old Bert Kay on quiet Gilman Street, just a block and a half from the downtown police station. Since that night, Palo Alto's sense of security has never really been the same.
Upon his death, so many friends, family members and neighbors would have stories of Kay's life. Bert was born in the suburbs of Boston, Massachusetts, in 1959. Growing up, he loved playing Captain Kirk in an old attic chair, dreaming of stars and outer space. In grade school, Bert excelled in math and science and when he headed west for college, he furthered those passions at Caltech. A job at Hewlett-Packard first brought him to Silicon Valley where he met and married Meg Fletcher. After time abroad in Switzerland, Bert earned his doctorate in Computer Science at the University of Texas, and he and Meg eventually settled down in a Palo Alto duplex on Waverley Street. Soon he was able to realize some of those childhood Captain Kirk dreams while working at the NASA Ames Research Center in Mountain View, where he was developing modern spacecraft.
In 1995, Bert and Meg had twin girls, Nina and Sonia, whom Bert considered "the funniest things on Earth." They led an idyllic Silicon Valley life --- raising their girls, hiking and biking in the mountains on Saturdays and enjoying Bert's love for cooking.
On the night of June 12, 1997, all of that would come to an end. After putting their two-year-old twins to bed, Meg dozed off and Bert set out from his apartment for his nightly "thinking walk." Meanwhile, over in East Palo Alto, six members of a Samoan gang called the True Blue Crips were drinking Mad Dog 20/20, a type of potent wine, and making plans to "jack someone." They piled into the blue Isuzu Rodeo owned by 20-year-old Christian Valdes and headed across Highway 101. Circling downtown around 10:30 pm, they spotted Kay walking down Gilman Street, a typically serene setting that serves as the Saturday morning home for the Palo Alto Farmer's Market.
While Valdes remained in his car around the corner, his five friends crept up on the unsuspecting scientist. One of the attackers brutally struck Kay in the head, knocking him to the ground. Searching Kay's pockets, they only found a little girl's ponytail holder (Kay had actually left his wallet at home). Two of the other gang members then savagely beat Kay while he lay writhing in pain on the pavement. Eventually they dragged Kay behind the bench that stands behind the Laning Chateau Apartments and fled the scene. The injuries to Kay's face, head and neck were so severe that by the time police arrived just minutes later, Bert Kay was dead.
The next morning when Meg and the twins awoke, the house lights were still on and Bert was missing. After calls to friends and family, Meg reported Bert's disappearance to the police. It took most of the day for police to confirm what they already suspected, that Bert Kay matched the identity of the body discovered behind the Gilman Street bench.
As the news of the murder hit the papers, the residents of Palo Alto went through a kind of collective progression from shock to grief to anger. Many Palo Altans couldn't believe that such a crime could occur in such a location. Phyllis Mayberg, a Forest Avenue resident told the Palo Alto Weekly, "It's absolutely shocking. We're only a block from the police station. I've never felt that I had to worry about walking in the neighborhood at night." The following night a candlelight vigil was held at the Gilman Street bench where Kay had died, as well wishers lay flowers and lit candles in a makeshift memorial to the former scientist. A week later, more than 500 mourners gathered for a vigil and quiet walk through the downtown streets honoring Kay's memory. Generous Palo Altans would end up contributing more than $93,000 to a trust fund set up for the Nina and Sonia Kay's college education.
But soon the community began to vent its anger and fear for its future safety. One resident wrote in to the Palo Alto Weekly to rant that, "It is disgusting that this accomplished and respectable man died at the hands of several greedy and remorseless gang bangers…the legal authorities supervising this case [should] sentence these six degenerates to the maximum sentence." Another complained about an increase in crime: "The level of safety here 30 years ago was absolute," he said. "Now people are hesitant to walk around after 8 p.m."
Only days later, police announced the confessions of the True Blue Crips. This produced mixed emotions from Palo Altans. While many praised the quick police work, the news that the suspects were from East Palo Alto furthered frayed already existing tensions between the two cities. The last major murder in Palo Alto --- the 1994 slaying of David Liu during a robbery near Greer Park --- had also been committed by an East Palo Altan. The devastated Samoan community, however, went a long way to helping ease the tensions when some three dozen community members attended the candlelight vigil for Kay --- including two of the fathers of the arrested suspects.
The prosecution, furthered by the Palo Alto community outrage, basically threw the book at the accused --- even though none of them had prior criminal records. Iapesa Simanu was sentenced to life in prison in 1999. Christian Valdes (20), Danny Tevaga (17) and Falala Lelei (15) were convicted of first degree murder. Tevaga, Lelei and Valdes were sentenced to 25 years to life in prison. In 2000, Olopitoamoa Tapuloa was sentenced to 15 years to life in prison. But for Meg and the twins, the convictions did nothing to bring back Bert Kay. "Closure is a fantasy word," Meg would say, "They took away my best friend, the person I loved most in the world."
Shortly after Kay's death, Palo Altan Brian Williams had this to say about his neighbor, Bert Kay. "I consider myself lucky that Meg and Bert moved into an old house in downtown Palo Alto only a couple blocks away…Meg and Bert both brought with them an incredible neighborly spirit, through their
spontaneous visits with the twins, their weekend barbecues, or the many chance meetings we've had in a nearby park. In the few short months they've been here they've created the kind of neighborhood that I only thought existed back in my childhood."
Indeed, with the murder of Bert Kay, Palo Alto lost one of its dearest neighbors and perhaps the neighborhoods of our childhood. []
"My name is Angel, and i dont have any memory with Mr. Kay, but the day that I heard the news of his death. it broke my heart to hear of his passing caused by the young mens at the time, of whom I've known. Everyday i think of this day, and yet it still hurts. I was young at the time, to have the courage to go up to the widow and kids of Kay, to apologize for what happend. But i just want to say, i am truly sorry for your loss, and that through out the years the public seen of what happened that day and kept their judgement until this day. but I do assure you if Mr. Kay's widow ever reads this, you have a very big heart and asking leniancy for the mens being sentenced. and I thank you so much..I do assure you that these mens are good mens, and through the years being incarsarated they have learned and open their eyes and heart to see things a lot clearer and more understanding. And i have seen these mens change through out the years. I ask that you please forgive them, for the wrong and mistake they had done. and may the good Lord be with you and your girls.
-Angel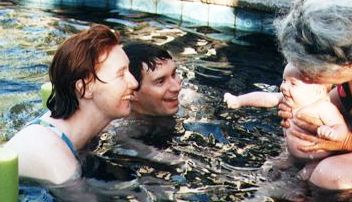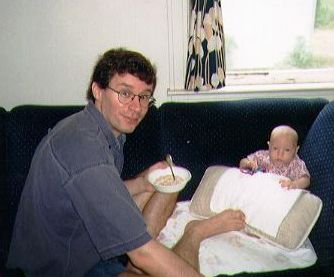 Bert Kay with his little one.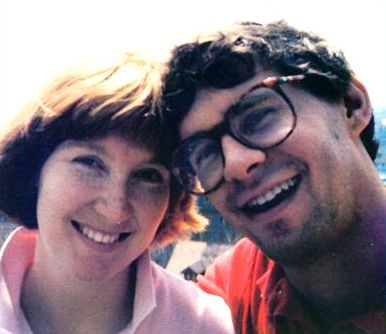 The Kays while in Zurich, Switzerland.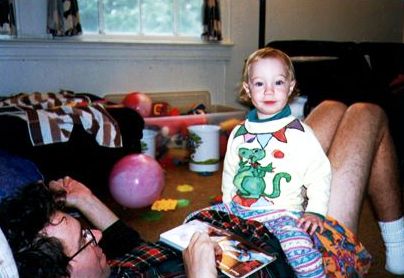 Bert with Nina at home in Palo Alto.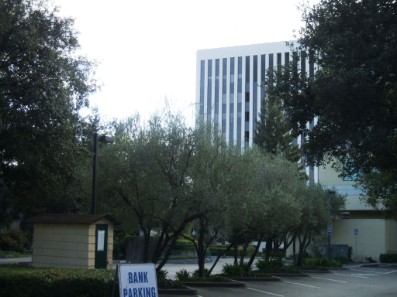 The murder took place just two blocks from the police station, as seen here.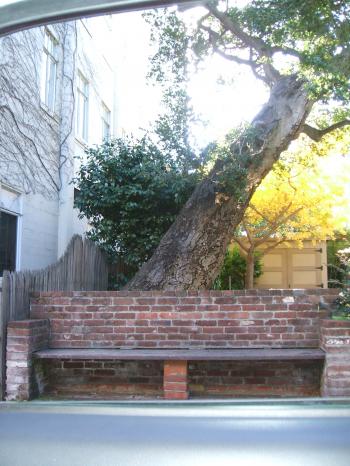 Kay's body was dragged behind a bench on Gilman Street.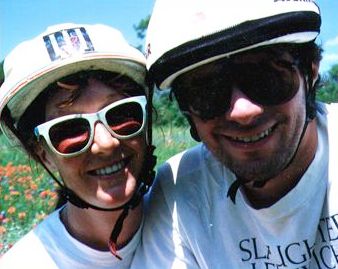 Bert Kay with his wife Meg in Austin, Texas.