St. Michael's Alley: From Hippie to Bobo
Whatever happened to the hippies? It's an interesting sociological question, given that the "tune in, turn on and drop out" mindset didn't exactly groove with growing up, raising kids and putting food on the table --- nor did it jive with the culture of the Greed Decade, the 1980s. So what did the flower children of the sixties do in the post-Watergate years? One popular theory is that they became the yuppies of the eighties --- those Volvo-driving thirty-somethings that held onto their liberal ideology while somewhat guiltily pursuing information age careers and the suburban dream. That notion was first advanced by columnist Bob Greene in his famed 1983 article, "From Yippie to Yuppie," which told the story of former radical yippie (Youth International Party) leader Jerry Rubin --- who was by then leading a surprisingly mainstream business networking group in New York City. And he wasn't the only counterculture icon hanging around an office cubicle.

Of course, in these parts, the story goes that a lot of the grown-up dot com bigwigs that blew the Internet bubble of the 1990s were graduates of the Age of Aquarius. In 2000, columnist David Brooks coined the term "bobos" (bourgeois bohemians) to describe the ex-hippie usurping of the ranks of the upper middle class. "Dumb good-looking people with great parents have been displaced by smart, ambitious, educated and antiestablishment people with scuffed shoes," he only half-joked.

Now it's said that the bobos are running the world --- Silicon Valley especially. In Palo Alto you can find them sipping double espressos at Starbucks, getting massages at Watercourse Way or looking for rustic furniture at Restoration Hardware. Indeed much of the economic and social landscape of Palo Alto has been transformed by the Obama-voting, NPR-pledging, Facebook-running bobos.

But perhaps no Palo Alto establishment runs the full gamut of this progression like legendary St. Michael's Alley --- a kind of hippie to bobo microcosm. Opening as a kind of European-favored coffehouse in the late 1950s, it just caught the end of the Beats, helped launch Joan Baez when folk took over and became the happening spot in town. In the mid 60's it garnered a bad reputation, making police watch lists and drawing the wrath of mainstream Palo Alto. After closing down in 1966, St. Michael's Alley reopened 7 years later as a full-menu restaurant with a new location and new credo to serve an upscale audience. By the 1990s it had become a definitive bobo hangout --- featuring such specialties as "Prosciutto-Wrapped Halibut topped with white wine lemon cape-garlic sauce." So, the question is, did St. Mike's betray its hippie loyalists or is that just what old-time radicals eat these days?

Because in its early days St. Michael's Alley was really just a hipster hole-in-the-wall. Opening at 436 University Avenue on April 1st, 1959, owner and former political pollster Vernon Gates was looking to capture the spirit of the European cafes that he had known during his studies at the University of Innsbruck in Austria (St. Michael's Alley is actually the London street where many of the first English cafes opened in the 17th Century). Palo Alto's Alley was a modest establishment, about 90 x 30 feet with a high ceiling and service bar in the back. It had a dark, woodsy atmosphere, a piano painted speckled green against a side wall, and no bandstand. The atmosphere was cozy and informal. As jazz musician Dick Fregulia remembers, "A piano player could literally play with one hand on the keys and the other hand reaching for a coffee cup on one of the adjacent tables."

There were performances of all types --- folk singers, jazz bands, staged plays, poetry readings. And while it wasn't obvious at the time, the place was becoming a proving grounds for many rising stars. Paly high schooler Joan Baez, members of Jefferson Airplane and Jerry Garcia and the members of the early incarnations of the Grateful Dead all played there. Bob Hunter even washed dishes in the kitchen for a while.
It was a credit to Gates that such a creative atmosphere could thrive at St. Mike's --- especially in a town as mainstream as Palo Alto in those days. From the beginning, the amateur watercolor artist and poetry writer pushed his employees to dance, paint and play music. He saw St. Mike's as a "bohemian establishment in a sea of Republicans." And as such, it soon began attracting counterculture types from all over the Peninsula.

Perhaps too many. When an 18 year-old Woodside girl was arrested for selling marijuana to her high school friends in 1964, the judge spoke from the bench about her entry into "the world of pseudo sophistication, the world of Saint Michael's Alley." The local media ran with those comments and soon St. Mike's acquired a not-so-wholesome reputation. After the Palo Alto police department called St. Mike's a hangout for "narcotics users and homosexuals," the city attorney's office tried to strip it of its beer license. And in June of '65, a crackdown by Palo Alto police on what they called "a bunch of local beatniks" led to the arrest of 4 alleged frequenters of St. Michael's Alley on drug possession charges. Soon St. Michael's more affluent clientele began to fade away. As Gates would later recall, "Most of my paying customers…thought they would lose their security clearances [at work] if they came to the place, so I was virtually put out of business."

This might help explain the memories that the somewhat cantankerous Gates had of the musical legends he once hosted. Of Joan Baez he recalled, "She would go on signing all night and everybody would hang around and not buy anything." Of the early incarnation of the Grateful Dead: "The only thing I credit myself with is kicking them out and telling them to go home and practice."

In 1966, Gates closed St. Mikes and spent the next seven years designing silk screenings, writing metaphysical poetry and meditating "4-6 hours a day." But although he called this the happiest period of his life, Gates made an entrepreneurial comeback in 1973. He reopened St. Mike's on quiet Emerson Avenue, the former home of the city's modest auto row. This time, however, he catered to a new type of audience --- and largely left the days of Joan and Jerry behind. The new St. Mike's was an attempt at three-star restaurant cuisine catering to "educated and professional people, lawyers and doctors, teachers and professors." And as Gates told the Palo Alto Times Tribune in 1991 "I made a conscious effort to drive away the people who destroyed St. Michael's Alley. They can't support the business. They were some of the finest people from Stanford, but they nickel and dimed us to death."

Then again, perhaps the new clientele was the old counterculture with new affluent identities. Gates seemed to consider this possibility later in the interview: "They grow up. All the people who might have contributed to the demise of the first St. Michael's Alley are middle-aged now… I have clients that have been coming in since we first opened 18 years ago."

Despite the higher prices, there was still an alternative feel to the place--- Gates and employees hung their paintings in the windows and his dishwasher grew a corn garden out front. There were weekly poetry and open mike nights in the so-called "Waiting Room" next door ---a kind of homage to the original St. Mikes.

But in 1994, the links to the past were severed when Gates sold St. Mike's and got out of the restaurant business. Now the "Waiting Room" is gone and St. Mike's has taken an even sharper turn toward upscale cuisine and fine dining. But no matter how much St. Mike's changes to cater the capitalist Silicon Valley around it, the secret of St. Michael's Alley remains safe with us --- it was once a pretty happening place. []

"My era there (summers of 1958 and 59) preceded beer and wine by at least five or six years, but it was not odd to be without liquor because there had never been any in Palo Alto establishments. We got by on frappees and cappuccino. The girls were hip and sexy, or so its eemed, and black was the preferred color of clothing. The first wave of St. Mikes was more like an extension of the scene at Kepler's Bookstore - that is, more literary and social than musical. Regardless of who was playing there, the concept of "rock star" had not yet been invented. We had our cult followings - some larger than others - but there was never a line around the block, or even out the door as I recall. By 1961 or 62 I had graduated to playing paid gigs at Outside at the Inside and various El Camino Real venues."
-Dick

"In the early 1960s (summers of 1962-1964) I was a member of the prototype of the Palo Alto Chamber Orchestra. I don't remember if we called ourselves that. We played Bach's Brandenberg concertos (among other repertoire) At Saint Michael's Alley on University Ave. Bill Whitson was our director and
ringleader; he was a recent grad of Drake University and was in the Army (or just out) at that time. Other musicians included trumpeter Ralph LaCanna and pianist Bob Bowman."
-Miriam

"In the spring of 1993, my friend Charlotte asked me to go with her to hear a singer at St. Michael's Alley. It was the kid sister of one of her co-workers; they were teachers at a local high school. The place was pretty packed -- for a free show, the singer was playing for tips and to sell her tape. I thought she was pretty good -- but as Charlotte left me the tape when she went traveling the tape really started to grow on me. The singer was Dar Williams, her sister Julie still lives here in Palo Alto. She's returned at least three times for hard ticket shows: at Cubberley in 1995; at Stanford, and a benefit for Barron Park PTSA at Haymarket in 2004.
-Mark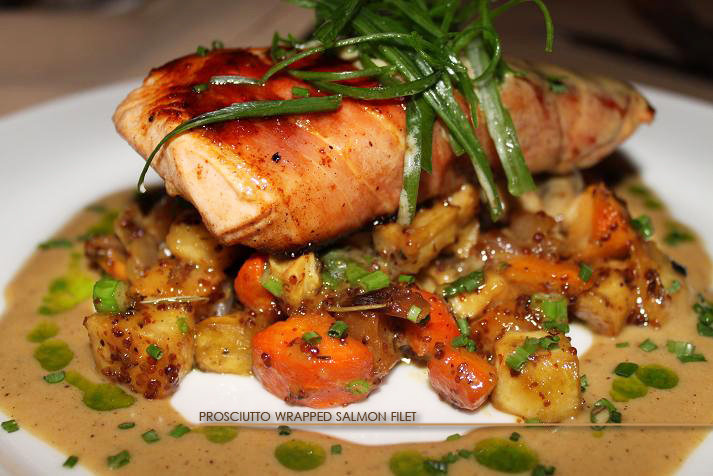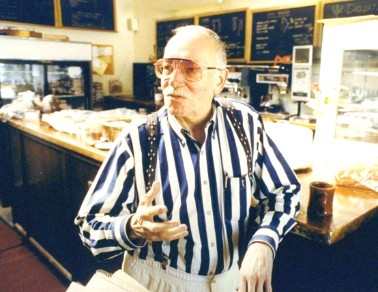 Vernon Gates, the founder of St. Michael's Alley.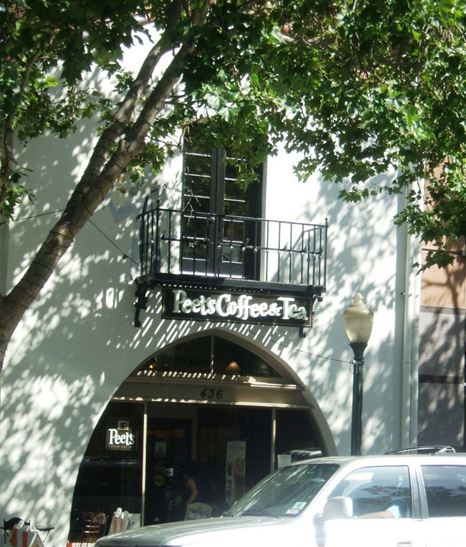 The original St. Mike's was in this Birge Clark designed building on University Avenue. Today it hosts a different sort of cafe.