Russel V.A. Lee: It's a Wonderful Life
Perhaps no Palo Altan has had a life as rich or full as Russell V.A. Lee, Palo Alto's most celebrated doctor. Remembering his time, one is reminded of Ben Franklin or Leonardo Da Vinci --- men who tried their hand at virtually everything, seemingly unencumbered by time, money or the limitations of ordinary lives. In
medicine --- his primary passion --- he paid little attention to accepted practice, rewriting the rules and then sitting back to watch with pleasure as the rest of the medical community caught up with him. And despite his enormous stature in the medical world, at times his doctoring seemed just one of his countless hobbies. Dr. Lee was also real estate mogul, devoted conservationist, amateur airplane pilot, big-time book collector, Stanford professor, champion poker player, prominent author, even world-record holding fisherman --- having caught a 435-pound tuna in Peru in 1957. By the time he died in 1982, Lee seemed to have crammed centuries of living into his 86 years on earth.
In 1895, Russel Van Arsdale Lee was born in Spanish Fork, Utah to a rebellious minister who had moved west to convert Mormons to Calvinism. After the elder Lee was expelled from his own church for arguing that some Biblical stories should be accepted as allegory, he managed to make ends meet as a beekeeper.
Russel moved to Palo Alto at the age of sixteen --- with just eight dollars to his name --- enrolling at Stanford University while earning his tuition fees by waiting tables at a Japanese restaurant. Later Russel held the unenviable position of examining the stools of Mother Lode miners for hookworms, one of many odd jobs that Lee had in his early life. These also included working as a bellboy in a whorehouse in his teens and --- according to Lee --- "putting an ancient alcoholic woman to bed when she came home falling down drunk each night" while
attending medical school in San Francisco.
After getting his degree from Stanford Medical School, Lee began what would become a 42-year career teaching medicine at the university. Meanwhile, after marriage and a few years in San Francisco, he went into private practice in Palo Alto with Dr. Tom Williams in 1924. Five years later, Lee joined with five
other doctors to form one of the first group practices in the country: the Palo Alto Medical Clinic. Later, Lee would oversee the Clinic's growth into an arm of the Palo Alto Medical Foundation, today one of the country's largest multi-specialty practices.
In the 1930s, Lee was an early critic of Nazi Germany, sometimes sheltering war refugees in his own home. After Pearl Harbor, he served as a major, colonel and chief of preventive medicine in the Air Corps, as well as the personal physician for the U.S. Secretary of War. As part of his duties, he travelled to every fighting front in the war, an experience he called "exceedingly interesting."
After the war, Lee got into hot water as a delegate to the rather conservative American Medical Association (AMA). The group saw Lee's advocacy of group medical practice as heresy and his support of prepaid health care as socialist. But as with so many of the battles of his early life, Lee eventually proved to be ahead of his time. The AMA came around to supporting group medical care and as Lee boasted in 1978, "most of the ideas that got me into great trouble with the AMA are now AMA policy."
But support for group practice was not Lee's only controversial belief. He was an early advocate of the prevention of venereal disease, actually writing the legislation for California's VD law that would establish a California bureau to fight sexual diseases. He even managed to usher it into law, lobbying the state
legislature with $8,000 he had won in a high-stakes poker game.
Lee was also an early backer of legal abortions, the right to die, birth control and drug legalization. Sometimes he seemed to relish being at the center of controversy. Generating negative publicity in the 1960s, Lee argued that "the best way to solve our narcotics problem is to give dope addicts all the narcotics
that they need." Although this remark was backed by an intelligent explanation of proposed policy, Lee was often just as happy to stir up trouble with flip remarks. He claimed to have received over 2,500 letters when opining that "considering a man as he is, as a mammal, monogamous marriage is a bizarre and unnatural state."
But behind the controversy, Lee was an exceptional doctor with a brilliant medical mind. Big ideas seemed to constantly pour out of him and many would eventually become reality. Realizing the need for a home for local medical research, Lee developed the Palo Alto Medical Research Foundation. Later pursuing his
interest in the field of geriatrics, he was the leading force behind the establishment of Palo Alto's Channing House in 1962. Sometimes called "the finest retirement home in the country," Channing House's innovative arrangement in which residents buy into lifetime medical care is still in place 45 years after its founding.
Lee also served with distinction on President Truman's Commission on the Health Needs of the Nation in 1951. As such, he was an early advocate of national health insurance and later devised a plan that became Medicare --- again earning the displeasure of the AMA.
A strong advocate of affordable health care, Lee often lamented in his later years that medical care was still too expensive --- even at his own clinic. But he was also proud to say that he never made money off of his patients. Rather, it was in real estate in which Lee amassed a small fortune. Buying up land around Palo Alto and Portola Valley, Lee became a millionaire when prices skyrocketed. Later, he secured his position with environmentalists when he rejected developers and donated and sold 1,400 prime acres of land to the city of Palo Alto for its renowned Foothills Park.
Later in life, the goateed, always elegant good doctor became a kind of Biblical patriarch --- his house surrounded by those of four of his children, all of whom became doctors. After losing his wife Dorothy in 1972 and his only daughter the following year, Lee's elder years were sustained by his remaining family.
The compound became home to most of his 21 grandchildren and eventually five great-grandchildren. His house itself became something of a shrine to a lifetime of hobbies. Inside, one could find a 15,000-volume library full of first editions and thirteenth Century rarities, a collection of more than 150 chess sets picked up during his six trips around the world, and a basement winery full of wine made in his own vineyards.
And in the years in which he was supposed to be slowing down, Lee made aging itself a kind of hobby --- with a little help from his pacemaker, hearing aids and artificial hip. In his 80s, Dr. Lee wrote a book about how to age gracefully --- the appropriately titled No Gravy on the Vest, in which he explained how to avoid
slowing down. Of course, he may have taken his own words a bit too literally, managing to total his brand new sports car when he crashed into an oak tree at the age of 83 (he did manage to outlive the tree). And Dr. Lee certainly retained his youthful attitude into his declining years. Asked at 84 what he wanted to do
with the rest of his life, the smiling Lee responded that his greatest ambition was "to lose a paternity suit."
Weeks before his death, he told his close friend Robert Jamplis, "Bobby, I'm tired…my locomotion is poor and my memory is failing. It is time I left this old world and I only hope it will be soon, swift and painless." No longer able to live life at full throttle, Russel Lee's final day came on January 27th, 1982. Later that
week, 600 of his friends showed up to honor the man with the earthy humor who had changed the field of medicine. His longtime colleague William Clark eulogized, "My many contacts with this man of unbelievable energy, brilliant intellect and far-sighted imagination were always stimulating, at times exasperating and never dull." Never dull. I bet that's exactly how Russel Lee would have liked to have been remembered. []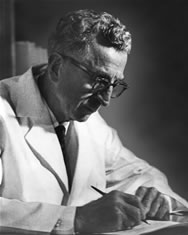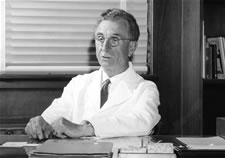 Russel V.A Lee at the PAMF.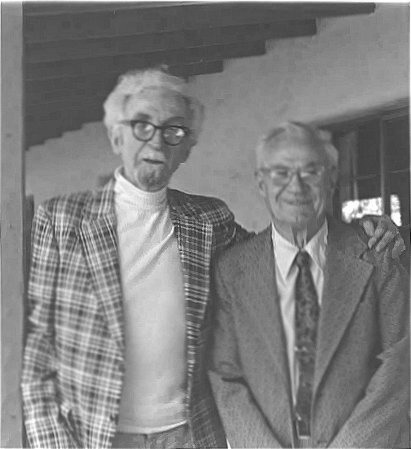 Russel Lee posing with Birge Clark.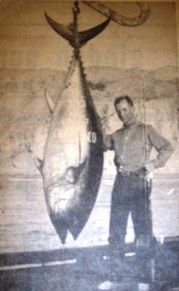 Russel Lee with a big catch.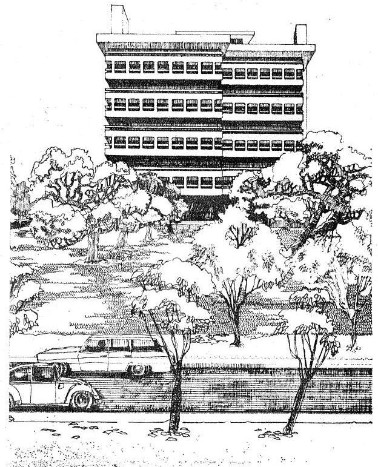 Lee was disappointed when Palo Alto voters rejected a downtown hospital that PAMF wished to build.

The PAMF's current home on El Camino Real.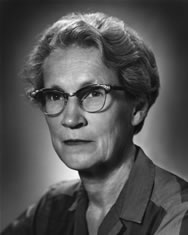 Esther Clark, sister of Birge, and one of the founders of Palo Alto Clinic.