Palo Alto Children's Library: Aunt Lucie's Most-Treasured Gift
Many of Palo Alto's proud institutions are as much a tribute to local generosity as to a wealthy tax base or a free-spending City Hall. The city's greatest benefactor Lucie Stern --- often referred to as Palo Alto's fairy godmother --- accounted for many local treasures including the Community Center, the Children's Theatre, Rinconada Pool, the Junior Museum and dozens more. And many of the city's other jewels such as the Gamble Gardens and Williams House were given to the city by altruistic local residents.

But Palo Alto's greatest charitable contribution was also Lucie Stern's greatest gift --- the Children's Library, which is celebrating its reopening this week. Stern, the widowed wife of Levi-Strauss founder Louis Stern had already blessed the city with a number of contributions during the Great Depression. But in 1939, Stern decided that she wished to donate $17,000 (in pre-inflation dollars) to build something that no other city in the United States had --- a library exclusively devoted to children.

Lucie Stern herself had suffered great hardship as a mother. Louisa and Louis Jr. both died in infancy in 1900 and 1901 and her second daughter Dorothea succumbed to pneumonia at the age of five in 1908. Her third daughter Ruth was a bright and happy girl until she began suffering epileptic seizures at the age of
12. These retarded her mental development and left her as an invalid for the rest of her life. Perhaps seeing her own children suffer helped inspire her to donate a place where the city's children could discover the magic of books.

Of course, the city's politicians very nearly blew it by looking the proverbial gift horse in the mouth. One city councilman said he liked Stern's gift but that he expected her to also endow the Library for future staffing costs as well. Mrs. Stern was so taken aback, she withdrew the offer. Soon, she would receive an anxious letter from the rest of the City Council apologizing and attempting to smooth Aunt Lucie's rather ruffled feathers. Lesson Learned: When someone wants to give you a brand-new library for free, you don't go asking if you could have a little more to man the circulation booth.

Eventually, amends were made and at a ceremony on September 14th, 1940, the library was officially bequeathed to the city on behalf of Mrs. Stern, by its designer --- famed local architect Birge Clark.

Clark gave great care to model the building to its purpose. The library's mahogany shelves were constructed low to the ground so that youngsters could easily select a book of their choice, while small tilted picture tables and three sizes of child-height chairs beckoned them to sit down and sample its first chapter. A secret garden, much like the one in Frances Hodgson Burnett's fantasy story, was set behind the library, complete with roses, arched trees and picnic tables. And the library boasted a splendid fireplace surrounded by favorite nursery rhyme characters from Humpty Dumpty to Old King Cole.

And so the library has stood on quiet Harriet Street for more than six decades, enticing the city's youth. Combing through historic photos of the library, one finds nearly identical pictures of kids from past eras assembled by the fireplace for story hour --- from post-war grammar-schoolers wearing fancy dresses and pressed slacks to 21st century elementary school kids in jeans and T-shirts.
In the late 1990s, however, the Children's Library appeared on the Palo Alto Library Commission's list of possible library closures. One member even mused out loud that there was nothing in the original contract to prevent the city from using the building for something else, adding that the commission was trying "to stay away from the emotional and sentimental issues surrounding the building." Perhaps the image of Lucie Stern's gift to the city's children warehousing something like city construction equipment grated on the local nerves, because soon the spirit of generosity was alive in town again. One donor contacted the "Friends of the Palo Alto Library," with an anonymous check for $175,000 and said she would donate another $200,000 if her offer was matched by the end of the year.

Since then, the Palo Alto Library Foundation and the "Friends of the Palo Alto Library" have collected another $1.7 million from more than 1,300 kindhearted Palo Altans. And this past Saturday, after being closed for nearly two years, the library --- renovated, expanded, but with the same childlike charm --- opened to a new generation of young bookworms.

It is said that upon its completion in 1940, Mrs. Stern dedicated the Children's Library to her only surviving child, Ruth. I have no doubt that Mrs. Stern felt great sorrow thinking of her own children as she made that dedication some 67 years ago, but it seems certain that she would have brightened ---at least a little--- had she known of the thousands and thousands of children her library would touch in the coming years. []

"My mother took me to the Children's Library when I was 8 or 9 years old and I promptly checked out at least 10 books, which I took home and kept by my bed. It wasn't until a few weeks after they were due that I learned about lending time limits on library books. When I returned the books, the sweet little lady at the desk informed me that I owed a huge amount of money (probably about $1.50) for having past due books. It wiped out my bankroll and it was years before I checked out another library book."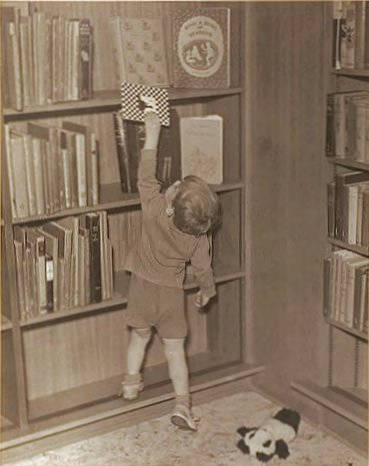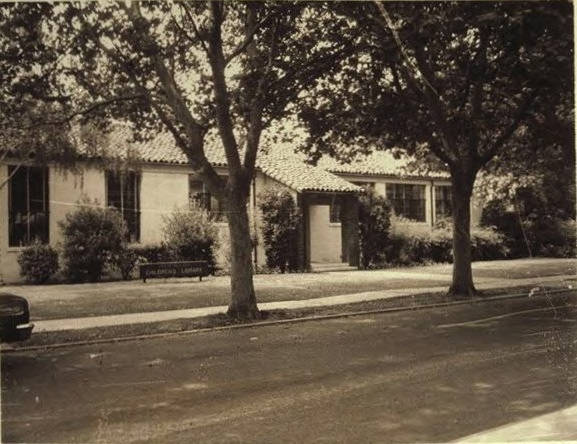 The Children's Library as seen in the 1960s. (PAHA)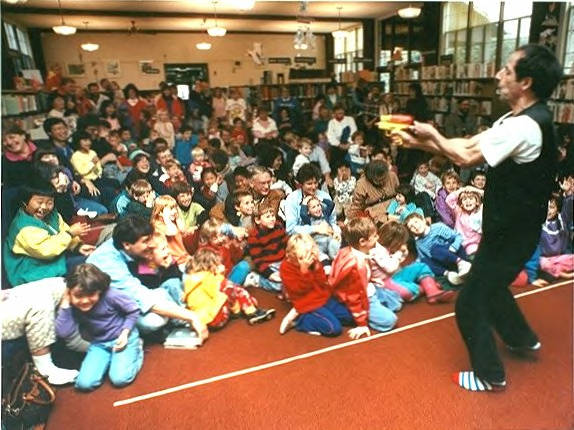 Bob Kann entertains children and parents at the library in 1992. (PAHA)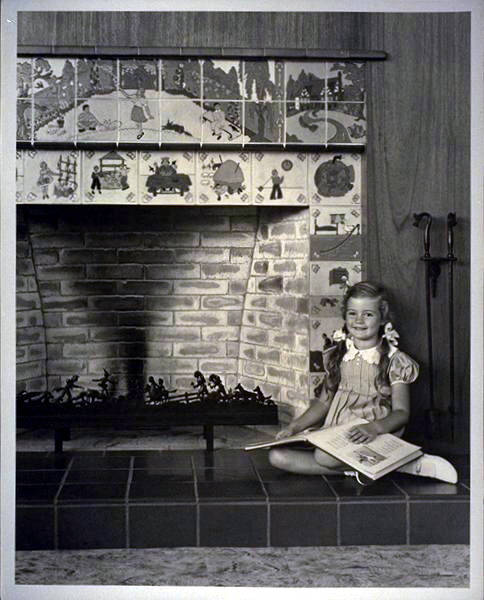 6 year-old Margaret Ann Ingalls next to the library's fireplace in 1940. (PAHA)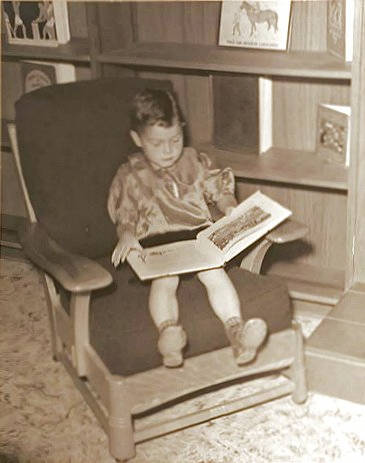 J.D. Northway reads a book in a chair in 1940. (PAHA)