El Palo Alto: Rooted in History
Every great city deserves a great symbol --- some sort of natural landmark or iconic structure that looks good on the city letterhead and in tourist brochures while still recalling the city's roots and history. The Statue of Liberty, Eiffel Tower and Golden Gate Bridge are all man-made structures that represent proud cities in their most idyllic glory. But while Palo Alto is a lot smaller than the sprawling metropolises of New York, Paris or San Francisco, it has a city symbol with just as much grace and dignity. This is the story of California's oldest living landmark, the tree known as El Palo Alto.

Actually to fully tell that story you have to go back more than 1,000 years. El Palo Alto, the tall redwood that stands near Palo Alto's northern border has been rooted to that spot for a millennium. It's an amazing fact to consider. Today tree lovers can walk into a small park on the banks of San Franciscquito Creek and look up at this enormous redwood that was just a small sapling when Leif Ericson first set foot in the Americas. Indeed, El Palo Alto was past 500 years old when Christopher Columbus set sail and it was nearing its 800th birthday in 1769 when most historians believe Don Gaspar de Portola and his band of explorers first "discovered" the tree while looking for Monterey Bay.

Of course, if you visit El Palo Alto today, it's difficult to get a sense of the landmark status it enjoyed in those early days of California exploration. Now it's just one of many redwoods, oaks and non-native trees clustered near the railroad tracks along the Menlo Park border. But part of what makes El Palo Alto a perfect city emblem is that it transports one back to an earlier era when all that stood between the mountains and the bay were undisturbed grassy slopes and fields. A time when El Palo Alto was the tallest tree for miles around.

In those days, El Palo Alto had twin trunks standing side by side. One twin would eventually succumb to a mid-1880s windstorm, but a photo taken a decade earlier records the distinctive character of the twin tree that on a clear day could be seen from San Francisco. Mrs. C.F. de Ramirez recalled approaching El Palo Alto in the early days. As a little girl in 1837, she first saw the twin trunks from the hills in Belmont. She remembered that "it was a clear day and as we topped the summit of the hill, I saw the two noble trees, intertwined like brothers towering high above the oaks and buckeyes. In those days the twin redwoods were indeed beautiful trees, green and stately."

Portola's chief scout, Sergeant Ortega, must have seen it much the same way nearly 70 years earlier when he viewed the two tall trees from the high mountains near present day San Carlos. The Portola explorers had come up from San Diego in 1769 on a mission to search for Monterey Bay. But as early explorers had a tendency to do, Portola's band got lost and found something else of significance --- the San Francisco Bay. As the procession struggled down the hills they used the twin trees as a guide --- later camping beneath El Palo Alto between
November 6th and 11th of 1769.

The twin trees that the Spanish called Palos Colorados (red trees) and later El Palo Alto (the tall tree) also served as a guide to other explorers. After camping beside the tree, Fray Pedro Font included El Palo Alto on his 1770 topographical map of San Francisco. "I beheld in the distance a tree of immense stature rising above
the plain of oaks like a grand tower," he wrote in his diary upon first seeing the twin redwoods. And in 1776, Padre Francisco erected a cross beneath El Palo Alto to mark a proposed mission site, although Spanish engineers and military strategists in San Francisco eventually decided to build the mission in Santa Clara.

In later years, the city of Palo Alto would grow up under the scraggly branches of El Palo Alto. A century after the Spanish explorers took note of the tall tree, Senator Leland Stanford settled trotting horses on his new Palo Alto Stock Farm. Later he and his wife Jane founded a university that would model El Palo Alto on its official seal. And as the University Park tract matured around Stanford University, it incorporated in 1894 as the city of Palo Alto. The new city was already a stopping point for the Southern Pacific Railroad, which had laid its track lines beneath the natural landmark. The train depot less than a half-mile south at University Avenue became known to many as Big Tree Station.

Despite fondness for El Palo Alto, the tree has been in danger since it was first sighted from that hilltop. Poisonous train smoke and emerging farms certainly didn't do the tree much good. Still, it was nature that did the most damage to El Palo Alto. During a particularly harsh winter in the mid-1880s, the tall tree lost its weaker half in a violent wind storm. When it came down, locals eagerly counted the rings and found the downed redwood to be 960 years old.

By the mid-1920s, many feared that El Palo Alto's days were numbered. Issuing a kind of last rites, the local Native Sons of the Golden West hurried to honor El Palo Alto in 1926 --- presenting it with a bronze plaque set in a granite boulder. But thanks to help over the years, first from Leland and Jane Stanford and later from the city of Palo Alto and local caregivers, great effort has been taken to preserve this hearty landmark. Soil and mulch have been filled in near the tree's base, dead limbs are periodically cut off, spraying is done to combat tree pests, and a pipe runs up its trunk bringing water to mist the treetop.

Having weathered the railroad, loggers, floods, termites, wind storms and smog, El Palo Alto still stands along San Francisquito Creek towering over the city and refusing to die. So if you ever find yourself near venerable El Palo Alto, stop by and give that old tree a hug. After all, it's earned it. []
"The area around the tree was beautiful, during daylight. It was not the best place to be, after dark, back in the 60's and 70's.

I was a police officer then. When we had slow nights in town, we would go down to the bridge and find dozens of people sleeping in sleeping bags, blankets, card board boxes, either under or out in the open from the various trees.

We would check out the people for warrants, run-a-way's, under age kids. One night I saw a drunk (it turned out) fall off his bicycle, as he was riding his bike on the railroad tracks. I went to check him for injuries, when he attacked me, I had to call for help cuffing him. At the jail, he admitted he didn't see my patrol car, or notice I was in uniform as he was so drunk. I was off work on light duty for 2-3 weeks after that incident.

Another time, one of the town drunks, tried going to the bathroom off the edge, into San Francisquito Creek. He was found at the bottom still with his pants down.

The place was never posted with any warning about being closed at darkness, so they kept coming. Another incident, I found a deceased male, in a sleeping bag near by. The Coroner apparently determined it was natural causes, or drugs, they never notified me.

My point, was some places were great in daytime hours, but not very nice at night."

-Roy
"Around 1969,when my dad retired from the city of Palo Alto,he received a seedling from the tree.He gave it away,no room in our yard. It lived in Sunnyvale a long time but the last time I was in the bay area it was gone (or maybe I couldn't find it) "
-Kim
"I was born in 1961 and grew up on East Creek Drive, a short distance from El Palo Alto. For my neighborhood friends and I, the area around the tree was our playground: climbing the lower part of the tree, with the aid of a spike driven into its trunk, to sit on it's small platform a short ways up; the thrill of sitting in the trestle or below it as a train went by; riding our bikes from the trestle, on the Menlo Park side, down "The Dirt Hill" leading down to Alma, then down "The Baja", the name we gave the path which follows the tracks down Alma; playing in the nearby field which is now the Stanford Park Hotel; later trying (and hating) our first cigarettes there; playing in the creek, skipping stones, exploring, getting poison oak! Hundreds of creek crossings on the way to Stanford Shopping Center. My older brother remembers the concerts held in El Palo Alto Park, an early venue for the Grateful Dead. All great memories!!"
-Mike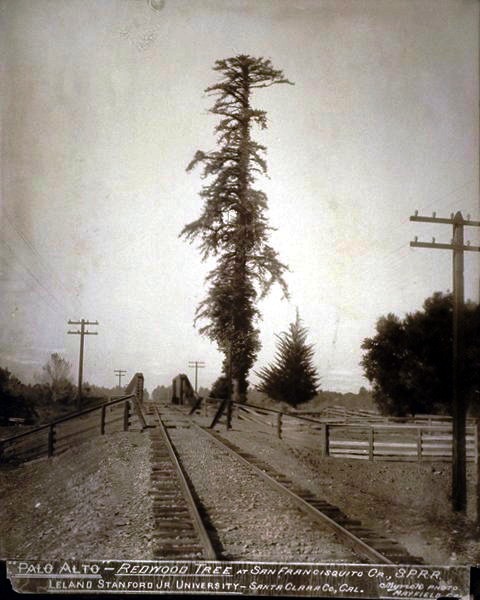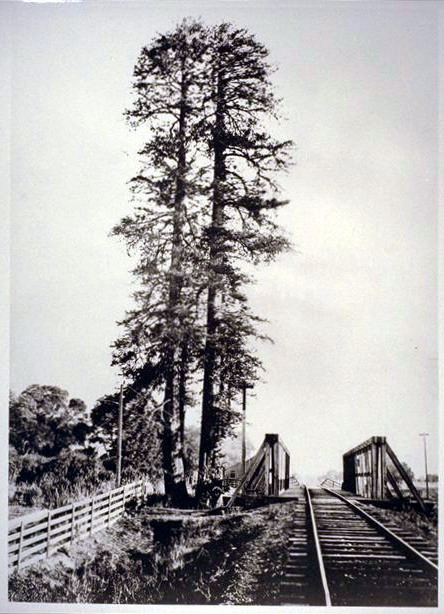 The twin-trunked El Palo Alto in 1875. (PAHA)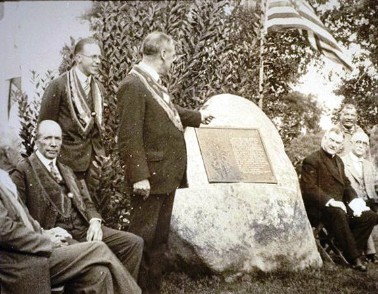 The Native Sons of the Golden West honoring the tree in 1926. (PAHA)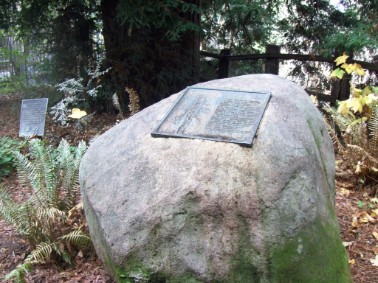 Their plaque remains today.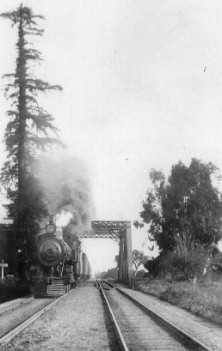 A locomotive steams north past El Palo Alto. (PAHA)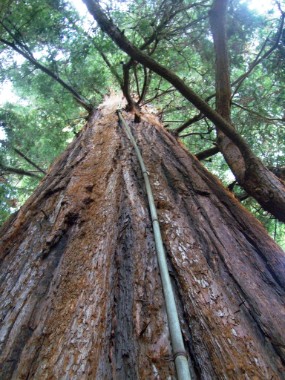 The tree in 2008 with its misting pipe apparent.