A Day in the Life: March 13, 1939
History is often presented compartmentally. In order to explain complicated events, historians may tell the linear story of one important person or event. Of course, a nation does not really evolve in a compartmentalized way. Take a look at any daily newspaper and you get an understanding of the cacophony of stories that occupy a single historical moment --- and how they interrelate. Reading the news today, we understand that Obama's response to the financial crisis may be what is most remembered. Or maybe environmental damage from gushing deep-sea oil will be the most important story.
But of course, life happens all at once. It's not just Obama and Wall Street --- it's the Knicks beating the Cavaliers, Slumdog Millionaire taking Best Picture, California strained by a financial emergency, and so on.
In this spirit, it may be interesting to capture a snapshot of another era by looking back at life in Palo Alto through one day's newspaper. Rolling back the microfilm of the Palo Alto Times --- the longtime local paper of record --- let's pick a day to examine. Let's avoid December 7th, 1941 or some other "day of infamy" and settle upon a time when the news was a little more typical. Let's turn back the clock more than 70 years to a day when Depression hardships were still familiar to Palo Altans. Welcome to the clear and bright morning of March 13, 1939.
Looking at the front page of that day's Palo Alto Times, we notice that America was very much focused on events around the world. While more than two and a half years would pass before Pearl Harbor pulled us into World War II, there was no doubt that Palo Altans were concerned with international affairs. The front page speaks to a world increasingly out of control. The top headline concerns Slovaks rioting in the Czechoslovakian city of Bratislava, sponsored by Nazi Germany across the border. The next day the Slovak Parliament split from the Czechoslovakian government to form the Slovak Republic, giving ally Nazi Germany a strategic base for later attacks on Poland.
The front page of the Times in those days had a regular inset called "The World Picture," providing a daily update on the ever-changing politics in foreign capitals. On March 13, the news from Madrid told of the Republican Miaja government crushing a communist revolt while simultaneously making deals with Francisco Franco. Two weeks later, Franco's troops would storm Madrid and establish a new Spanish government.
Fear and anticipation of war are also noticeable in other sections of the paper. That day's Op-Ed section, for instance, includes a forum letter from an Olga K. Robinson of Palo Alto, who voices her disapproval of the administration in Washington: "Any hope for a long continued peace, if you call our present condition peace, seems hopeless with President Roosevelt straining every nerve to protect our frontiers from Guam to Germany." The sense of fascism on the march is even present in a Times editorial on local girl scouts: "In a world threatened by totalitarian philosophies, regimentation and mass thinking, the girl scout movement stands for the development of individuality."
In an interesting front page juxtaposition, affairs abroad are just a column away from scientific discoveries concerning the very nature of the universe. A small front-page article carries this rather bold headline: "Einstein: He Discovers Law of Gravity." The story then goes on to detail the professor's interview with L.E. Levick of the National Association of Science Writers and explains that "Einstein thinks he has discovered the clue to a long sought single law that will explain the structure of the entire universe and all the mysteries of matter and radiation." Pretty big news for a sidebar column.
In local news of the day, accidents were a common theme. You'll find a shocking number of stories in old newspapers telling of freak misfortune --- car crashes, death by drowning, electrocution and a great many child deaths. In the days before guard rails, seat belts, child-proofing and increased government safety intervention, such events were an unfortunate reality of life. The March 13 Palo Alto paper is no different, telling of a car crash at Lytton and Middlefield while an Op-Ed letter calls for an underpass at California Avenue to avoid "needless tragedies…such as the one that occurred Monday at the California railroad crossing."
You can also see how much our community has changed by looking beyond the front page. A scan of the classifieds on Page 8 turns up some interesting items. The great differences in prices --- especially Depression prices ---are always a bit startling. For instance, a trip to the Lincoln Garage on El Camino Real --- "1 mile south of Mayfield on the highway" --- could net you an eight-year-old Buick sedan for a hundred bucks or a one-year-old pick-up for just $17.50. A four-bedroom house in the Walter Hays neighborhood was going for$9,500, and if you wanted to give it a fresh coat of paint, you could pick some up for just $1.35 a gallon.
Other items in the classified section date Palo Alto as still somewhat rustic in 1939. For instance, it would be hard to imagine finding classified ads in today's paper for "the removal of dead or live stock," "Winchester Hi Quality Chicks: hatching every Thursday" or even "an analysis of whether your soil is sweet
or sour."
Newspaper standbys were also different in those days. In this pre-television era, the Times carried daily radio listings below a small diagram of "Your Dial," which displayed in picture form the call number of each station. Remarkably, one of the shows on the schedule still looks familiar. Radio soap opera "Guiding Light" was running locally on KPO in 1939. It would eventually move to the tube and become the longest-running television drama in history.
Serial stories in written form were also popular newspaper features. The paper would publish a new chapter daily and the reader would check in for the very latest. "Mrs. Doc" by Tom Horner, is featured in the March 13th paper --- as the action is picked up in Chapter 5. The "Funnies, Fads and Features" section includes a Movie Scrapbook, with personality tidbits on stars such as Nigel Bruce and Dorothy Lovett, as well as a "Kwiz Korner" and an extensive page of cartoons. While most of the comic strips are similar to those found today, one cartoon "Myra North, Special Nurse" displays the ugly stereotypes of the era. The strip's namesake is a black mammy housekeeper who is characterized in the unfortunate style often given to black servants in that time. In one line Myra remarks to her employer: "Lawdy-lawdy! Jes' look at 'dis shirt Mistah Freddy…"
The society page certainly has a different feel as well. Mary Hampton's fashion column discusses whether "it is right for a high school girl to wear her shirt-tails hanging out." Concluding that it is not, she praises local schools that regulate such behavior, writing "When a school steps in to guide girls, I think they are doing
something very valuable for the girls' future."
And there are other little tidbits throughout the paper that show how much things have changed. Ads for "the Shaw Motor Co." and "Carlson's Home Made Candy" display four-digit phone numbers --- "Dial 3179," one ad encourages. There are also little differences in language and fashion. An ad for Blue Bird Potato Chips shows a store clerk in a bow tie proclaiming "Folks --- they're tops!" above a blue bird wearing a fedora. And Raymond Coiffeur D'Art on University Avenue asks women to "remember those lovely curls" of youth as it promotes "The Baby Haircut" --- the Astra Wireless Permanent.
Married women were often identified by their husbands' names, in a way that seems rather insulting today. For instance, the March 13th paper reports that a turnabout party was held at the Palo Alto Yacht Club for Mrs. Fred Hage. And it's also interesting, if a bit troubling, that regular citizens are often identified by their home addresses. You certainly don't see that anymore.
But not everything is different. Closing our microfilm version of the paper's final page, we see listings of local scores for Stanford, Paly and Elks games much as we might today. There are ads for businesses still in operation such as the Peninsula Creamery and the Palo Alto Sport Shop. And movie listings for the Stanford
Theatre and invitations to shop on University Avenue remind us that while customs and styles may vary with time, the essential spirit of the city is what it always was. []
"I went on a field trip to the Palo Alto Times building as a kid. That little building was full of huge, scary-looking printing equipment- we were under strict orders not to stick our hands into any of it! We got to set type with little block letters. It was fascinating for us kids.

The Times back then had a 'Society' section of local doings, including weddings, club luncheons, and debutante balls, always with complete description of what the bride or the 'deb' was wearing!

Comics were on the next-to-last page, along with a section called 'Youth Said It' if memory serves. There, teachers from the elementary schools would publish the best of their students' poems and essays. Quite the honor!"
-T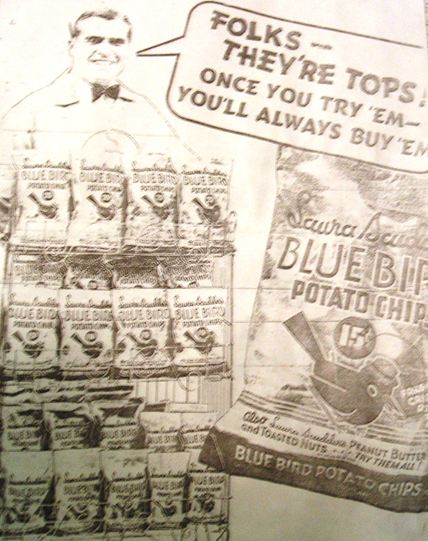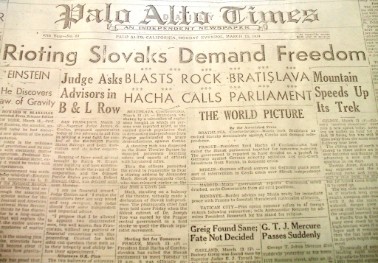 The front page of the day in question.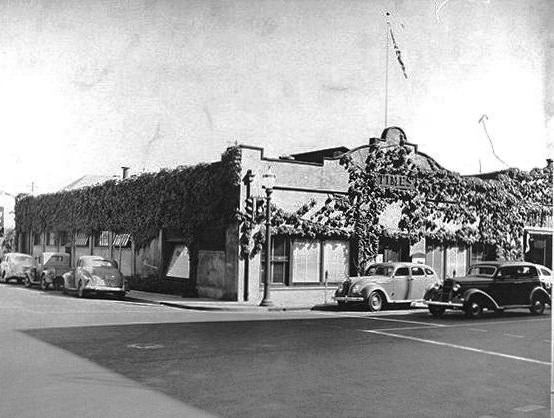 The Palo Alto Times was headquartered in this building at the corner of Hamilton and Ramona. (PAHA)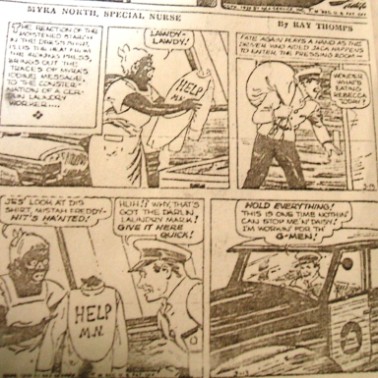 Myra North, an unfortunate cartoon of the era.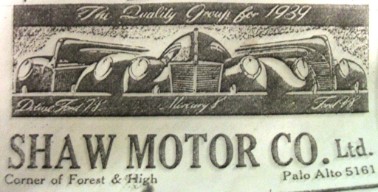 The Shaw Motor Company with a rather short phone number.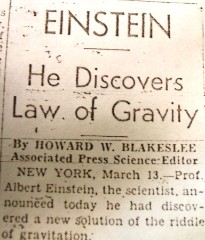 Einstein was making headlines in 1939.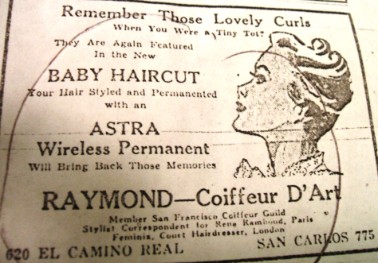 Baby haircuts for women were apparently in style.