Bloody Bayshore: A Dangerous Ride
As the car culture boomed in California in the late '40s and '50s, city planners and lawmakers struggled to keep up with the pace of the ever-growing traffic. The roads had not been built to handle the hordes of cars that now swarmed the roads, creating traffic and safety nightmares. On the Peninsula, no road had the dismal safety record as the highway that led to Palo Alto. It was known as "Bloody Bayshore."

Where the 101 Freeway now runs the length of the Peninsula, old Bayshore highway once connected San Francisco and San Jose. Completed in 1937, the four-lane highway -- divided by just a double yellow line -- contained so many dangerous intersections and potential driving dangers that Bayshore fatalities were constantly in the news. In the 1940s and '50s, the accident rate on Bayshore was twice that of the average California highway.
A combination of factors could make driving Bayshore deadly. Dense traffic flowed out of San Francisco and San Jose, as drivers made the rush hour commute. Many treated the road as the freeway that had not yet been invented -- rushing to get to and from work. A San Mateo Times story from the era quoted Police Captain James Logan as saying that "motorists have made a speed track of Bayshore, speeding at fifty or sixty miles per hour." Many accidents, he said, were due to " 'third lane drivers' who were going to the outside lane of opposite traffic in order to 'make time,' and then force their way back into the legitimate lane." Yikes.

Gruesome, head-on Bayshore crashes were common. With only the double yellow line dividing the racing traffic on either side, many accidents involved drivers swerving into on-coming traffic. Sleepiness, drunkenness, and speeding were sometimes factors. Other times, the reason was unknown, such as on March 13th, 1953 when Betty Ireton of Palo Alto died in a spectacular head-on crash. A 35 year-old
mother of three, Ireton's car veered over the center line and smashed full-force into a car driven by former Stanford rugby star Vance Sheffey. The middle-of-the-night crash was so explosive that it reportedly woke up residents a mile around. Ireton's car actually leap-frogged Sheffey's and came to rest on the other side of the highway with her license plate literally embedded in the wreckage of Sheffey's vehicle. Somehow Ireton's husband managed to escape with just minor scrapes and bruises. Both Sheffey and Mrs. Ireton were dead at the scene.

Many other accidents came at precarious intersections on Bayshore Highway. While the road functioned as a virtual freeway as far as speeding was concerned, it was not designed as one. There were frequent traffic lights and drivers attempting to make left hand turns across opposing traffic. Some of these turns ended up being fatal as drivers miscalculated the speed of the on-coming cars.

On June 8th, 1957 at the Colorado and Bayshore intersection in Palo Alto, 42 year old San Jose resident Marion Scott was making such a left hand turn. Attempting to beat on-coming traffic onto Colorado Avenue, she was hit, nearly head-on, by a vehicle driven by 45 year-old Thomas Mitchell of San Mateo. Mitchell's car caught on fire and Scott died instantly.

The drive to do something about Bloody Bayshore began in the Palo Alto media. The Palo Alto Times and editor Eleanor Cogswell began the crusade against "Bloody Bayshore." Local residents wrote letters, signed petitions and protested at a "Bloody Bayshore Day." Eventually, public pressure and the 20 years of
gruesome Bayshore headlines resulted in the new Bayshore Freeway replacing the old highway, largely along the same path. Although the 101 is often vilified by drivers today, it is a vast improvement over its pre-freeway predecessor. []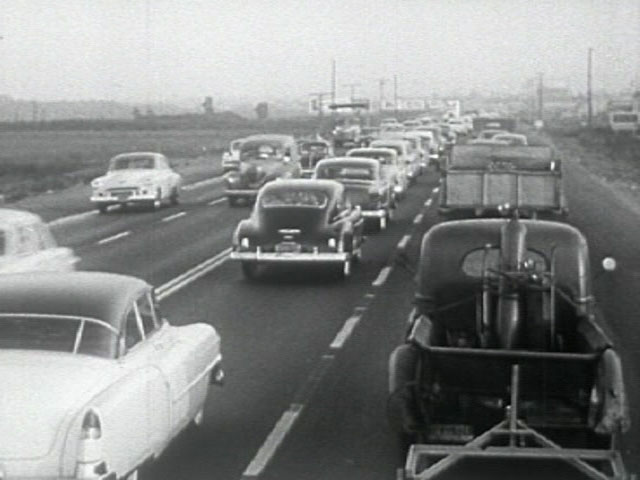 Old Bayshore highway with cars going in both directions.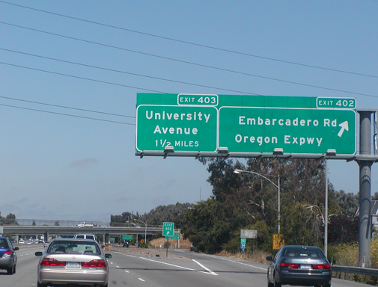 The 101 freeway has taken the place of old "Bloody Bayshore"